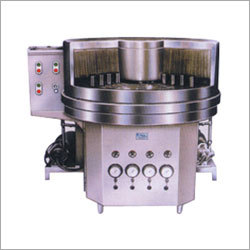 Rotary Bottle Washing Machine
Product Description
Rotary Bottle Washing Machine

SALIENT FEATURES:
Geneva mechanism
Four inner, one outer and one air wash
Sequence of washes to customer's choice
Output : Up to 6000 Bottles / Hour
Easy loading and unloading with two rows
Individual solenoid vave for each washing sequence,
which eliminates carbon plate and other accessories reduces leakage and maintenance to minimum.
Higher capacity centrifugal pumps to wash bigger bottles (500 & 1000 ml.)
The stationary nozzles avoid chipping of bottles necks.
Pumps and tanks are mounted on portable stand for easy maintenance.
Bottle guide system for light weight bottle.

BOTTLE SPECIFICATIONS:
Diameter of container

Outside diameter of neck

Height of container
Note: With help of the change parts

25 MM TO 100 MM

20 MM TO 38 MM

Up to 280 mm